---
Fraud Alerts: Memorial Day, ARC Imposters, Corporate Client Imposters and Fraudulent Emails – Fraudsters are Busy!
Memorial Day Fraud Alert:
Fraudsters are unusually active during holiday weekends. Be on the lookout for phishing emails and advise everyone who has GDS access (employees and ICs) to remember one thing: DO NOT LOG IN INTO YOUR GDS THROUGH AN EMAIL. You may also check with your GDS to see if they have a program to "turn off your ticketing" (note that this type of program is different than simply turning off the printer) when your agency is closed (evenings, weekends and holidays). Beware of last minute calls/emails for tickets from unknown clients wanting to use a credit card and wanting to depart same/next day, especially to or from high-risk international airports (ACC, LOS, DKR, CMN, etc.)
ARC Imposters:
An agent reported getting a call from a woman, who said she was from ARC. In order to 'authenticate' her affiliation with ARC she provided the agent's agency code number (ACN), pseudo city code (PCC), and LnIATA, along with the owner's name. The woman advised that after auditing the agent's sales, ARC believed that the agent may have an issue with Discover Card. In order to 'test the terminal,' she asked the agent to run a one cent charge to a Discover Card (the caller provided the card number). The agent, in this case, pretended to run the card and advised the caller that the charge was declined. The caller advised that perhaps the agent needed the CVV code and provided the code to the agent who, again, pretended to run the charge and advised her that the card was declined.
Please note that ARC does not have agents' PCC and would never provide credit card numbers/CVV codes to an agent and request that the agent run a charge. Although we do not know the 'intent' of the imposter, it surely wasn't ARC and the imposter was up to NO GOOD! NEVER give out personal business information over the phone.
Client Imposters:
Fraudsters are contacting agents pretending to be from a known corporate client (or referred from a known corporate client). One tactic they use is to spoof your client's email by setting up an email domain that 'looks like' your client's email. The fraudster will add letters or an extension to the client's domain name, which may not be easy to spot. Here are two examples (using ARC's email domain) of adding letters or extensions to confuse the reader.
arrccorp.com (added an extra 'r' in arccorp which is hard to spot)
arccorp-uk.com (added 'uk' to the domain to appear as if it's a UK location)
Look for corporate imposters by reading and reviewing the emails for spoofed email domains, spelling and grammar errors, and requests for tickets that are unusual for that client. Always reply to your client by using their stored email address.
Emails:
First, thank you to all the agencies who forward suspect emails soliciting tickets from their agents to our fraud prevention team (fifp@arccorp.com). We use these samples to warn agents of common aspects of fraudulent requests for tickets and to confirm that such emails are indeed from criminals.
Currently, common 'email subjects' include: QUOTE, Booking, FLIGHT RESERVATION / FARES, and Request. An example of a confirmed fraudulent ticket request email is below. Always review the email for spelling errors (Routh instead of Route) and incorrect capitalization (Details), common industry jargon (Pax name) and, if your clientele is usually US based, international date formats.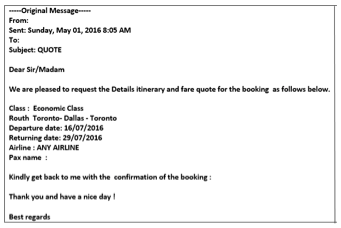 Report all fraud attempts to fifp@arccorp.com or 703-816-8137 to prevent fraud.
---
Aerogal Now Accepts UATP
Effective with sales issued Monday, May 23, 2016 (PED 05/29/16), Aerogal (547/2K) will begin accepting UATP as a form of payment through ARC.
---
Register Now for TravelConnect 2016
TravelConnect offers the rare and exciting convergence of all of the travel industry's most important players in Washington, D.C.—in one room, at one time. At this year's conference, October 6-7, you'll unleash new and exciting ideas and collaborate on how to improve processes, deepen engagement with customers and elevate your business to outthink and outperform the competition.
With inspiring keynotes, educational breakouts and lots—and lots—of networking, you'll be exposed to informative and enlightening content that will help you transform your business.
Learn more about what to expect from TravelConnect 2016 at arctravelconnect.com. Plus, save $50 when you register before June 15!
---
Tip of the Week: Re-Opening Already Authorized IAR Sale Reports
Did you know that you can re-open an already authorized IAR Sales Report before Tuesday midnight EST?
If you discover that a change needs to be made to a Sales Report after it was already authorized/submitted, you may use the IAR Reverse Authorize command to reopen the report as long as the reporting deadline has not passed. Reversing the authorized status of a report restores your ability to add, modify, or delete any of the transaction information in the report, provided that the void/modify window date has not passed yet.
Once an authorized sales report is reversed, it is no longer authorized. The old confirmation number will no longer be valid and a new confirmation must be obtained by re-authorizing/re-submitting the Sales Report prior to the sales reporting deadline.
To reverse authorization of a Sales Report, follow these steps:
On the IAR Home page, type an ARC Number and PED in the appropriate textboxes, select LS – List Summary from the List Type dropdown box and click CREATE LIST (or if already displayed, click the check box next to the ARC Number).
Click the R box located under the Rev A/S heading in the far right column.
The Reverse Authorized Status screen will display.
Type your IAR password in the Enter Password box.
Click the SUBMIT button to approve the reverse the authorized status of the Sales Report or click the CANCEL button to cancel the reversal action and return to the Sales Report screen.
Note: If your agency was granted a sales reporting extension and your sales report was submitted, the previous sales reporting extension will not automatically be reinstated. You will need to call the Customer Care Center for request another extension.