Start a conversation... Join a conversation at getsatisfaction.com/arctalk/.
---
Funerals and Medical Emergency Tickets May Result in Fraud!
A person continues to call agents requesting tickets for same or next day travel for relatives to travel immediately due to a family emergency (e.g., heart attack or funeral). Although this scenario may sound like a legitimate request for immediate departures, the fraudster is actually purchasing tickets for his/her passengers using compromised credit cards. They pocket all the money collected from their clients leaving you to pay for the chargebacks after the real cardholder denies the charges.
What are the red flags associated with accepting the credit card in this scheme?
Unknown or first time customer calling the agency
Departure airport is not local to the customer/travel agency
Third party transaction (cardholder is not traveling with the passenger(s))
Same day/next day departure
One card may decline and other credit cards are immediately provided
Urgent request to obtain airline tickets
How can you identify and prevent fraud?
Establish a company policy that requires an unknown/local customer to come to the agency with a credit card, driverís license or ID. Often the caller will then hang up or doesnít show up.
Verify local addresses and telephone numbers by using internet research (i.e., reverse address or telephone searches).
Call the phone number(s) given (calls go unanswered, voice mail is full or the phone is now disconnected).
Rely on your instincts, if something feels fishy, donít issue the ticket(s) or contact ARC for assessing the risk before issuing or confirming the tickets to the caller.
Use ARCís Red Flags list to assist in determining the risk of issuing the ticket.
Sign up to receive future fraud alerts and a copy of ARCís Red Flags list, via return email, at arccorp.com, by choosing the Customer Support tab and then Fraud Prevention, or visit https://www.arccorp.com/support/fraud-prevention.jsp.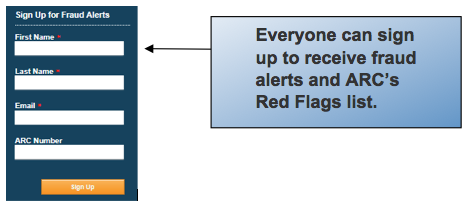 ---
Tip of the Week: How to Request Access to My ARC Tools
Did you know that having a My ARC user account does not mean that you will get automatic access to all tools within My ARC?
Additional tools within My ARC are requested by going to the Tools box on the My ARC homepage. The Tools box contains a Request Access link, which will allow you to request the tools currently available to your organization.
Tools requested must be approved by either your organization's My ARC Primary Administrator or My ARC Tool Administrator. Either administrator will get a "Pending Request" email notification once you have submitted your tool request and will either approve or reject your request. The administrator can also add a note to the tool requestor along with the approval or denial response. Adding a message is optional and allows the administrator to ask for additional information as well as explain the approval or denial reason.