Start a conversation... Join a conversation at getsatisfaction.com/arctalk/.
---
Be Vigilant of Phishing Emails Pretending to be from Your Boss
Agency employees are currently receiving emails purportedly from their owner, manager or supervisor asking the employee to act on their behalf. First, the writer may ask the employee if they are in the office or at their desk. Then, in a follow-up email, he or she will ask if the employee will confirm bank account information, wire transfer funds, pay a vendor, or conduct a task involving another banking activity. View the three examples below of such phishing emails. Note: Names and email addresses have been changed but formats are the same.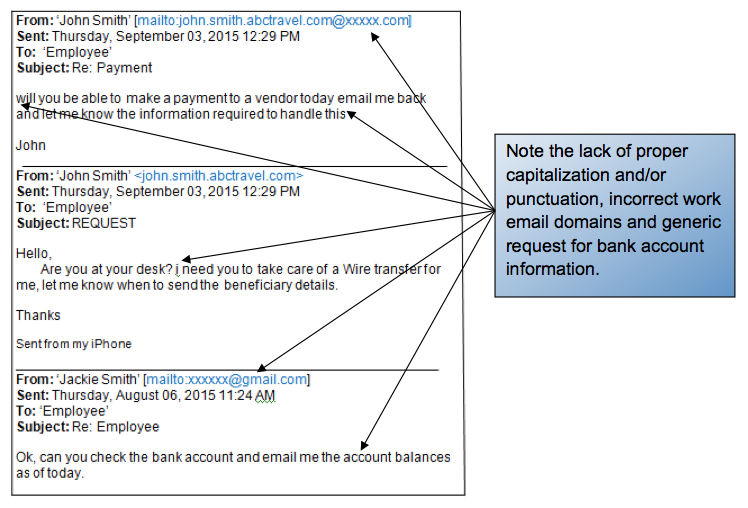 What should you do next?
Advise staff and ICs about this type of phishing email.
If you, or your staff, receive an email from someone in your agency asking you to do a task involving banking or transferring funds that you would not normally do, or that you think is confusing, contact or email that person directly (do not reply to the email) to confirm the request is legitimate.
Report phishing emails to IC3.gov as they collect statistical data about internet fraud attempts and provide Public Service Alerts. For example, in this type of email fraud called "Business E-Mail Compromise," IC3.gov issued Public Service Alert No. I-082715a-PSA, dated August 27, 2015, in which they documented the rapid increase in this type of scheme, along with some suggestions to thwart future attempts.

In addition to reporting these types of emails to the IC3.gov, please forward confirmed or suspect phishing emails to ARC's fraud team at fifp@arccorp.com.
---
Reminder: My ARC Extended Outage September 19–20
My ARC will be unavailable for an extended outage starting Saturday, September 19, 2015, at 10 a.m. EDT until Monday, September 21 at 7 a.m. EDT. You will not be able to access My ARC or any of its tools or products, including IAR and Memo Manager, during this scheduled time.
This full system outage is necessary in order to complete the final phase of a two-part database migration and security update. ARC realizes this system unavailability has an impact on your work with My ARC tools. The intent of this advance notice is to provide you with adequate time to make any necessary schedule adjustments. The weekend date was chosen to minimize the impact to My ARC users, because weekends have the lowest amount of user activity. All systems are expected to be fully operational at 7 a.m. on Monday, September 21.
Your understanding and patience are appreciated as we improve and further secure ARC's systems. Please share this information with others in your organization who may be impacted by this scheduled My ARC outage.
---
VietJet Air Joins ARC
VietJet Air (VJ/978) is joining ARC as a participating carrier effective with sales on September 14, 2015 (PED 09/20/15).
VietJet Air is a New Age Airline utilizing the most modern and environmentally friendly fleet of A320 and A321 aircraft. The airline serves more than 15 domestic destinations including Hanoi, Da Nang Ho Chi Minh, Nha Trang, Da Lat, Buon Ma Thuot and Phu Quoc. VietJet also provides international service to Bangkok, Taipei, Singapore and Seoul.
VietJet has elected the General Concurrence method of agent appointment whereby all ARC agents are automatically appointed as agents of VietJet Air. The airline will accept cash only as a form of payment, but will add credit cards in the future. Booking is currently available in the Amadeus GDS. 
For inquires, reservations or sales information, please contact:
VietJet Air c/o APG USA, Inc.
410 Lexington Avenue, Suite 2523
New York, New York 10170
201-484-8036
vietjetair@apg-usa.us
---
Register Now for TravelConnect 2015
Don't miss your chance to join the best and the brightest in Washington, D.C., on October 22 for ARC's annual conference, TravelConnect 2015. At this conference, you'll have the opportunity to engage in essential industry discussions and uncover new travel solutions to better your business today.
As an attendee, you'll:
Take part in dynamic panels on our industry's most important and talked-about topics such as fraud prevention and travel data insights
Hear from some of travel's key thought leaders in compelling sessions around IATA's New Distribution Capability and debit memo standardization
Establish relationships with peers, ARC executives and others in the field during networking breaks and receptions
Experience hands-on demonstrations of the industry's latest products, services and programs
Register today to save your spot at TravelConnect 2015!
---
Tip of the Week: Fields that can be Modified on an Electronic Ticket in IAR
When ARC receives a straight sale electronic-ticket (ET) from a GDS and loads it to IAR, changes cannot be made to any field other than the following five modifiable fields:
Commission
Tour Code
Ticket Designator
Certificate Number
Miscellaneous Support/Waiver Code
Any modifications to these five ET fields must be made within the next business day following ticket issuance. Please make sure to verify that other information required by the carrier (endorsements/restrictions, passenger name, form of payment, etc.) is correct before a reservation is ticketed in your GDS.