Start a conversation... Join a conversation at getsatisfaction.com/arctalk/.
---
Fraud Alert – Scheme Using University/College Identities
Several agents have again confirmed that compromised credit cards are being used for tickets that appear to be from their corporate account, especially their university or college accounts. These non face-to-face transactions are issued for immediate international departure, typically to and from West African or South American airports but could depart from any non-U.S. gateway.
Here is an example: An email is sent to various travel agents, which will appear to be from a university or college account, trying to convince you that the sender of the email is an official from the university/college.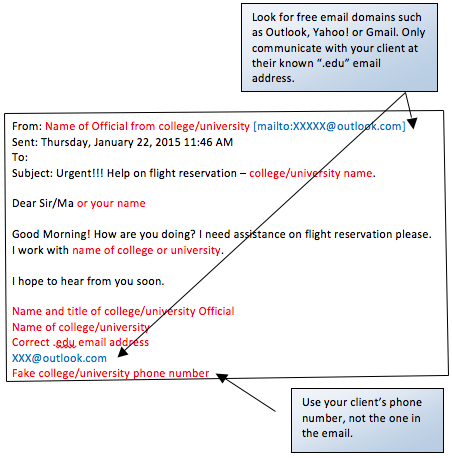 What Should You Do Next?
Advise your peers of the scheme and provide them with a copy of this alert. Don't assume that every corporate booking is legitimate. Review your corporate bookings daily for:
Multiple passengers with immediate (same- or next-day) departures
Changes in a corporate client's usual travel patterns (e.g., same- or next-day departures, international departures, etc.)
Use of unknown or multiple credit cards
Unusual origins or destinations
High-dollar tickets
High-risk itineraries (e.g., to/from LOS, ABJ, JNB, ACC, CMN)
If you identify some of these changes in patterns or suspect compromised credit cards, you should:
Take immediate action to confirm passenger names and credit cards with your corporate account.
Act quickly to properly void unconfirmed corporate tickets through your GDS to obtain the ESAC code from the carrier's e-ticket database.
Cancel (do NOT refund) return segments of the ticket that may have been used outbound to reduce losses.
If a corporate booking tool was used, determine how access to the corporate booking tool may have occurred.
Review online booking tool rules and settings with each corporate account to identify and minimize vulnerabilities.
Contact ARC's Fraud Prevention team for important follow-up information at 703-816-8137 or fifp@arccorp.com.
More on current schemes, fraud prevention and credit card transaction red flags can be found on ARC's Fraud Prevention page.
---
Hahn Air Now Accepts American Express
Effective with sales issued on Monday, January 26, 2015 (PED 2/1/15), Hahn Air (169/HR) will begin accepting American Express as a form of payment through ARC.
---
Amendments to Cuban Assets Control Regulations
The U.S. Treasury Department's Office of Foreign Asset Control (OFAC) recently amended the Cuban Assets Control Regulations to implement policy changes announced by the President on December 17, 2014. These amendments allow travel pursuant to twelve authorized travel categories. They also authorize, among other things, U.S. persons within those categories to engage in various "travel-related transactions, including ... booking and purchasing air travel" to Cuba. These changes mean that ARC is now authorized to process transactions for the newly authorized travel to Cuba.
Many other aspects of the Cuba embargo still remain in place, however, including the prohibition on transactions with certain Cuban companies and individuals. For this reason, ARC will continue to reject any transactions validated on, or containing segments on, Cubana (CU/136). As has been the case for years, rejecting these transactions and placing them in an error status will prevent any associated funds from reaching ARC's ASP. This type of error cannot be corrected or modified in IAR and will instead require that the transaction be voided from the IAR sales report. ARC is required to notify OFAC of any rejected transaction, which will include the identity of the travel agent who originally submitted the rejected transaction.
For more information and access to the complete list of carriers on OFAC's Specially Designated Nationals List (SDN), please see OFAC's Specially Designated Nationals List (SDN).
---
Increased Fee for Paper Sales Summary Report for Agents
For those agents receiving their Agent Sales Summary report in paper format, the 2015 fee for this service will be $56 per month.
---
Tip of the Week: IAR Out-of-Period (Roll Over) Errors
IAR allows a Sales Report to be authorized even when an error is present. Once the submission deadline has passed, a transaction with a status of E (error) automatically rolls over to the next open Sales Report. Such transactions are then designated with a dual status of OE (out of period and error) to distinguish them from error transactions appearing in IAR for the first time. A transaction with a status of OE must be corrected in the same way as any error transaction with a status code of E.
Any OE transaction should be resolved as quickly as possible. After the error is corrected, the transaction will have a single status of O (out of period). If the transaction cannot be corrected, it should be voided and reported directly to the carrier. Note: A carrier may issue a debit memo for any transaction not reported in the same sales period in which it was issued.
Once a report is authorized, any existing error cannot be corrected until it moves to the next open sales report. In such cases where the report has rolled over to the next sales period (and the sales reporting deadline has not yet passed), the authorization for that sales report may be reversed which allows the error to be corrected. The report will need to be authorized again before the sales reporting deadline.
---
ARC Customer Care Center | Tel. (703) 816-8003 | Fax (703) 816-8039 | csc@arccorp.com
ARC Corporate Communications | Tel. (703) 816-8525 | Fax (703) 816-8168 | corpcom@arccorp.com