Start a conversation... Join a conversation at getsatisfaction.com/arctalk/.
---
Air Rarotonga Joins ARC
Air Rarotonga (GZ/755) will join ARC as a participating carrier effective with sales on September 22, 2014 (PED 09/28/14). Air Rarotonga is the domestic airline of the Cook Islands, headquartered at Rarotonga International Airport, Cook Islands.
Air Rarotonga operates scheduled passenger, charter and cargo services between nine island destinations within the Cook Islands, including Rarotonga, Aitutaki, Atiu, Mitiaro, Mauke, Mangaia, Penrhyn, Manihiki and Pukapuka. Air Rarotonga operates three aircraft: a Saab 340 and two Embraer Bandeirantes.
Air Rarotonga has selected the general concurrence method of agent appointment whereby all ARC agents are automatically appointed as agents of Air Rarotonga, unless specifically advised to the contrary by the carrier. Tickets can be booked via Sabre, and Air Rarotonga will offer ARC agents 5 percent commission on published fares validated on Air Rarotonga (GZ/755).
For inquires, reservations or sales information, please contact:
Air Rarotonga
420 Lexington Avenue, Suite 2523
New York, NY 10170
201-484-8036
airRarotonga@apg-usa.us
---
La Compagnie Now Accepts American Express
Effective with sales issued on Monday, September 22, 2014 (PED 09/28/14), La Compagnie Airline (002/B0) will begin accepting American Express as a form of payment through ARC.
---
Urgent Fraud Alert: New Phishing Emails with Malware/Spyware
Several agents have reported receiving emails pretending to be from airlines (Jet Blue, Southwest and Delta). Although unprofessionally formatted, these emails reference a ticket number and itinerary for you and a second passenger. Don't be fooled into clicking the links, because such action may place dangerous malware/spyware on your computer, which may not be stopped by your virus protection packages because the virus is too new to be detected. (Note: Some of the emails contain unrelated paragraphs at the end of the emails, i.e., religious issues or reviewing a restaurant's lunch menu, which are not included in the example below.)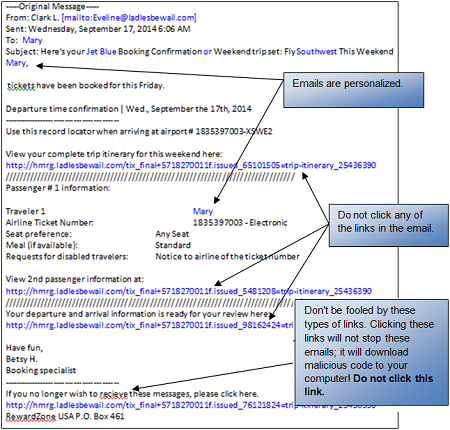 Show this to all of your employees, outside agents and independent contractors, and if anyone has clicked the link and opened the attachment, have an IT security person immediately clean that user's computer. Keep your spyware, malware and virus protection up to date, and run it often to protect your computer and your business.
If you have any questions, please contact ARC's fraud prevention team at 703-816-8137 or fifp@arccorp.com.
---
Tip of the Week: Auto Submission of an IAR "No Sales" Report
When an IAR Sales Report does not contain any transactions (no activity) and has not been authorized/submitted by the standard Tuesday 11:59 p.m. Eastern Time (ET) deadline (or Wednesday 11:59 p.m. ET during a week with an ARC-recognized Monday holiday), ARC will automatically submit a "No Sales" report on your behalf.
ARC auto submission of a "No Sales" report will only occur if the sales reports of previous PEDs, which did contain transactions, have already been authorized and submitted. All financial information on the Authorize and Submit screens of a "No Sales" report will reflect $0.00.
---
ARC Customer Care Center | Tel. (703) 816-8003 | Fax (703) 816-8039 | csc@arccorp.com
ARC Corporate Communications | Tel. (703) 816-8525 | Fax (703) 816-8168 | corpcom@arccorp.com