Start a conversation... Join a conversation at getsatisfaction.com/arctalk/.
---
interCaribbean Airways (JY/653) will join ARC as a participating carrier effective with sales on Monday, August 25, 2014 (PED 08/31/14).
interCaribbean Airways is a regional airline based at Providenciales International Airport (PLS) on the Turks and Caicos Islands, a British Overseas Territory in the Caribbean. The company operates scheduled service domestically from the Turks and Caicos Islands and Jamaica, as well as nonstop and one stop connections to destinations in the Bahamas, Dominican Republic, Haiti, Jamaica and Puerto Rico. Operating a fleet of EMB120, BE99 and B1900D aircraft, interCaribbean Airways offers easy connections from Jamaica to the Dominican Republic and the Dominican Republic to Puerto Rico.
interCaribbean Airways has elected the General Concurrence method of agent appointment whereby all ARC agents are automatically appointed as agents of interCaribbean Airways. JY/653 is currently available to agents in Amadeus and Sabre and is offering a 6 percent commission.
The airline accepts cash only as a form of payment with credit card sales expected to commence within the next 30 days.
For inquiries, reservations or sales information, contact the office listed below:
interCaribbean Airways
420 Lexington Avenue, Suite 2523
New York, NY 10170
201-526-7719
interCaribbean@apg-usa.us
---
Sales Report Submissions Extended
Agencies will have an extra day to submit the sales report for PED 08/31/14. The weekly sales report must be authorized by 11:59 p.m. on Wednesday, Sept. 3.
Ticket Modification/Voiding Schedule
Please note the following extension dates to modify and reconcile IAR transactions issued Friday, Aug. 29 through Sunday, Aug. 31. The GDS/IAR void extension date is Tuesday, Sept. 2.
Customer Care Center Hours
Monday, Sept. 1: Closed Tuesday, Sept. 2: 9 a.m.—9 p.m. Wednesday, Sept. 3: 9 a.m.—9 p.m.
Placing Emergency Document Requisition Orders Before Labor Day Holiday
Your emergency order should be placed in advance of the 4 p.m. cut-off time on Thursday, Aug. 28 to ensure that it is received on Friday, Aug. 29. Any emergency orders placed on Friday, Aug. 29 will not be delivered until Tuesday, Sept. 2. Please order your stock accordingly.
*All times shown are Eastern.
---
The level of unauthorized/stolen tickets is always higher on the weekend of a U.S. holiday! Fraudsters are still using phishing emails to obtain agents' GDS login IDs and passwords to issue tickets—typically high-dollar cash tickets for immediate international departures. Be on the lookout for any email claiming to be from your GDS, an airline or a well-known tour operator instructing you to click links to confirm credentials, passengers or itineraries. Never attempt to log into your GDS through an email.
Below, you'll find the most recent phishing email example followed by important instructions. Share this important alert with everyone who has access to your GDS.
What should you do with this example?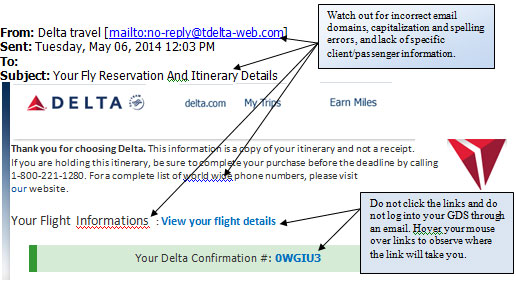 Show the example to everyone, including full- and part-time staff, independent contractors and sub-agents.
Never enter your GDS login ID or password through an email. Advise all employees to always go directly to your GDS's known website.
Ask every employee or outside sales staff if they've received an email similar to the example. If they have, take immediate action to change everyone's passwords and refer to your GDS's website for additional instructions.
If the agency's GDS administrator's credentials were compromised, check to see if new user accounts have been created or if emails for any user have been changed. Always delete unknown or former user accounts immediately. Contact your GDS to see if additional steps should be taken.
Review your bookings and ticketing in your GDS early each day for unauthorized ticketing.
If you suspect unauthorized ticketing or access, immediately:
Void the ticket(s) through your GDS to obtain an ESAC code.
Notify affected carriers.
Cancel the PNR (or return segments if the outbound leg has been used).
Contact your GDS to report compromised IDs, PCCs or passwords, and ask for immediate assistance to prevent additional unauthorized ticketing or access.
Contact ARC's fraud prevention team at fifp@arccorp.com or 703-816-8137 for important follow-up instructions.
More on current schemes, fraud prevention and credit card transaction red flags can be found at ARC's Fraud Prevention page.
---
Interactive Agent Reporting (IAR) contains sales report data for only the three most recent sales report period ending dates (PEDs). To view sales reports for PEDs older than the most three recent weeks, you may access ARC Internet Sales Summary (ISS) from your My ARC toolbox. If this tool is not already in your toolbox, you can request it by clicking the request tool link next to Your Account at the My ARC homepage.
After accessing ISS, your first step will be to select your sales report view by choosing a report from the last three PEDs or from the past 24 months. Next, you should select the filter icon in the upper left corner to display the Filter Reports grid. Enter your ARC number in the lower left field of the grid labeled ACN (which stands for Agency Code Number). You can further narrow your search by entering a specific sales report PED. If you do not enter a date, a list of all available reports will be displayed. Click OK to generate the requested report(s), and then click on the line of the PED you wish to view. You may then search the report for a specific ticket. You can copy and paste line item detail as needed or print and/or download a single page as well as the entire report.
---
ARC Customer Care Center | Tel. (703) 816-8003 | Fax (703) 816-8039 | csc@arccorp.com
ARC Corporate Communications | Tel. (703) 816-8525 | Fax (703) 816-8168 | corpcom@arccorp.com