Start a conversation... Join a conversation at getsatisfaction.com/arctalk/.
---
Boliviana de Aviación Joins ARC
Boliviana de Aviación (OB/930) will join ARC as a participating carrier, effective with sales on May 19, 2014 (PED 05/25/14).
With headquarters in Cochabamba, Bolivia, Boliviana de Aviación operates scheduled flights between Miami to Santa Cruz, with connecting services to Cochabamba, La Paz, Sucre and Tarija. Boliviana de Aviación operates Boeing 737-300 Jet aircraft.
Boliviana de Aviación has elected the General Concurrence method of agent appointment whereby all ARC agents are automatically appointed as agents of Boliviana de Aviación. Boliviana de Aviación will accept cash only as a form of payment but will soon add American Express, Visa and MasterCard.
For inquiries, reservations or sales information, contact:
Boliviana de Aviación
8725 NW 18th, Terrace Suite Nº 100
Doral, FL 33172
305-591-3229
www.boa.bo
---
Atlasjet (KK/610) Update
In addition to Sabre, Worldspan and Apollo, Atlasjet will offer ARC agents availability in Amadeus.
For inquiries, reservations or sales information, please contact:
Atlasjet USA
420 Lexington Avenue, Suite 2523
New York, NY 10170
201-484-8036
AtlasJet@apg-usa.us
---
Memorial Day Weekend – Fraud Alert
Fraudsters are unusually active during holiday weekends. Be on the lookout for phishing emails and advise everyone who has GDS access (employees and ICs) to remember one thing: Do not log into your GDS through an email. You may also check with your GDS to see if they have a program to "turn off your ticketing" when your agency is closed (evenings, weekends and holidays). Note: This type of program is different than simply turning off the printer.
Current phishing emails entice the reader to click on the link(s) to check on their client's booking. In all the examples, the links lead to a replica of your GDS login screen. You may believe it's real, but it's not!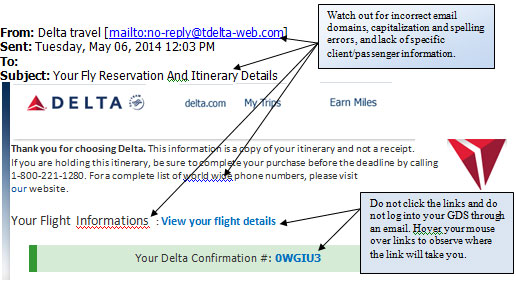 What should you do now?
Ask employees and independent contractors if they received an email without passenger information and logged into your GDS believing that the email was authentic. If they did, have them immediately change their GDS password and then contact your GDS for any further instructions they may have for you.
Determine if your GDS has a program to "turn off your ticketing" when your agency is closed; and if they do, implement that program before the holiday.
What should you do during the upcoming holiday weekend?
Carefully monitor your booking and ticketing in your GDS. If you find unauthorized/stolen tickets or bookings, immediately attempt to void them through the GDS, and contact your GDS for further instructions. Immediately change the password of the employee or IC whose credentials were used to issue the tickets.
If you find unauthorized/stolen tickets/bookings during the holiday weekend, provide the details to ARC's Fraud Prevention team at fifp@arccorp.com or 855-358-0393, and someone will contact you by the next business day with important follow-up information.
Examples of phishing emails and other valuable information can be found in ARC's Fraud Prevention section on My ARC. If you believe you have received a phishing email, please forward the email to fifp@arccorp.com with the subject: Possible Phishing Email.
---
Tip of the Week: Searching for Online Help for ARC Systems or Products?
You can communicate with ARC's Customer Care Center by clicking on the eSupport link in the upper right corner of the My ARC login screen or the ARC homepage. The eSupport tool is designed to assist our customers' most common requests on products, including: My ARC, IAR, Agent's Choice, Memo Manager, Internet Sales Summaries and Document Retrieval Service.
Also, feel free to contact the Customer Care Center at 855-816-8003 or ccchelp@arccorp.com. We're happy to help!
---
ARC Customer Care Center | Tel. (703) 816-8003 | Fax (703) 816-8039 | csc@arccorp.com
ARC Corporate Communications | Tel. (703) 816-8525 | Fax (703) 816-8168 | corpcom@arccorp.com