Start a conversation... Join a conversation at getsatisfaction.com/arctalk/.
---
Fraudster Posing as an Outside Agent is Now Doing Time
A fraudster named Mr. Gabby Ben posed as an outside sales agent in a Los Angeles travel agency. Once set up by the agency, he proceeded to use his access to the agency to initiate transactions using fraudulent credit cards. The agency was unaware of the problem until they started to receive chargeback debit memos from the airlines. Mr. Ben thought he could get away with it, but he was wrong!
Following a formal complaint by the travel agency, the Los Angeles Police Department and District Attorney's Office worked together with the travel agency and ARC to make sure he'd pay a hefty price.
It took three years to bring this criminal case to a close, but in November 2013, Mr. Ben accepted a plea deal to various felony charges, including three counts of grand theft, sending him to CA state prison for one year. In addition, he agreed to pay $450,000 in restitution to the travel agency and various banks, plus $300,000 in court fines.
ARC strongly encourages travel agents to report fraud and attempted fraud incidents to the Fraud Prevention Department at fifp@arccorp.com or (855) 358-0393. ARC works with law enforcement every day to drive fraudsters out of the travel agency distribution channel and relies on tips from agents to fight these criminals.
---
Fraud Prevention Webinar – Credit Card Acceptance and Fraud Prevention Best Practices
The travel industry continues to be hit hard by fraud, and it very frequently involves credit cards. In 2014, ARC is focusing on reducing fraud in the industry, and education is a large part of the initiative. The first of many webinars is scheduled for Wednesday, February 19 at 2:00 p.m. EST. This webinar will cover general credit card acceptance and fraud prevention best practices. Specifically, we will talk about the following:
The credit card acceptance process – authorization through settlement
Best practices for managing risk in a card not present world
The credit card chargeback policy
Basic tips to increase your chances of "winning" chargebacks
Tips for dealing with "friendly fraud"
Register for the Fraud Prevention webinar here.
Keep your eyes and ears open for more information from the ARC Fraud Prevention team in 2014. If you have questions, would like additional information or see activity you suspect is fraud, please contact the team at fifp@arccorp.com.
---
2011 ARC Transaction History File Now Available
ARC's Transaction History File containing your organization's transaction data for all of 2011 is now available on CD. Starting in April, ARC will begin purging the oldest data from its Document Retrieval Service (DRS), which provides online access to the past 39 months of ticketed transaction data.
ARC's Transaction History File provides you with your settled and voided transaction information for all PEDs in 2011. It comes equipped with free viewer software that allows you to easily search for a specific transaction, view it on screen and print it onto a single page. Plus, the software is self-contained—there's nothing to install.
You can import the Transaction History File into several popular software programs, such as Microsoft Excel and Access, in order to create reports, manage, sort and analyze the data as you please. For more information, please call (703) 816-8530, email at businessdevelopmentsupport@arccorp.com or visit ARC's Transaction History File page online.
---
Tip of the Week: The New Memo Manager Portlet
ARC is pleased to announce that Memo Manager updates were implemented on Thursday, January 16 to allow for a quick view of the agency's Memo Manager activity. A key benefit of this release includes the addition of the Memo Manager Portlet, available to each of our agencies upon logging into My ARC.
The Portlet will show each agency a snapshot of their most recent memo activity without accessing AMM. The Memo Manager Portlet is located above the ARC News Portlet. This readily available overview of the agency's Memo Manager activity should help agents avoid losing track of new memos, possibly incurring additional penalties or having credit memos become inactive due to aging limits being reached.
Please reference the product release notes for additional details on this exciting enhancement.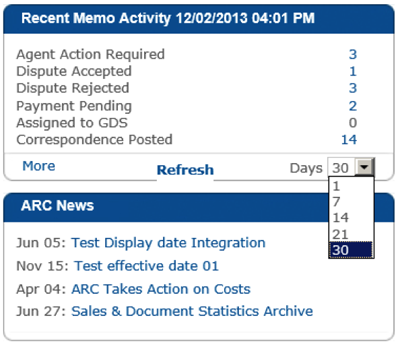 If you have any questions, please contact the Customer Care Center at (855) 816-8003 or ccchelp@arccorp.com. We're more than happy to assist you.
---
Please distribute the ARC TAC among staff and colleagues.
---
ARC Customer Care Center | Tel. (703) 816-8003 | Fax (703) 816-8039 | csc@arccorp.com
ARC Corporate Communications | Tel. (703) 816-8525 | Fax (703) 816-8168 | corpcom@arccorp.com