Phishing Emails Containing Malware May Be in Your Inbox
Several agents have reported receiving phishing emails enticing them to open the attachment – DO NOT CLICK ON THE ATTACHMENT! ARC has confirmed that the email below contains an attachment (removed from the example) with malware. What is malware? Malware, spyware and viruses are unwanted software that is installed on your PC or Network without your knowledge or consent. Each is designed to either damage your computer or network or to take control of it – often gathering personal/business information and sending the information to the criminal's computers.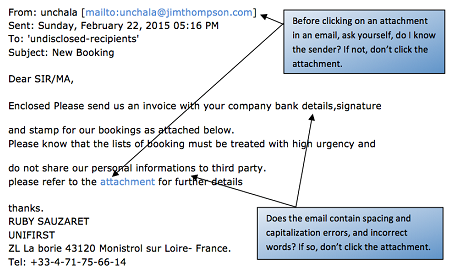 What should you do now?
Ask employees and independent contractors if they received this email and opened/clicked on the attachment. If they received the email and opened/clicked the attachment (or don't remember if they did), run your updated malware protection and/or engage a computer expert in your community to assist you.
What should you do to protect your PCs and Networks?
Since there is no one system or program that will protect your computers, use a layered approach to security and regularly update those systems and programs to prevent the latest threats. Malware, spyware and viruses change all the time so you need to implement appropriate and updated procedures and systems to prevent unauthorized access to your PCs and networks.
Use and monitor a firewall
Regularly use active and updated malware, spyware and virus protection
Update your operating systems with current security updates
Update applications with all current security patches
Enable anti-phishing ability through your browser
Mandate complex passwords (e.g., upper/lower case letters, symbols and numbers, no proper names, initials, words, etc.)
Secure your network to prevent unauthorized access to proprietary and sensitive information including names, addresses, date of birth and credit card information
If you believe you have received a phishing email, please forward the email to fifp@arccorp.com with the subject: Possible Phishing Email.
About ARC:
ARC powers the U.S.-based travel industry with premier business solutions, travel agency accreditation services, process and financial management tools, and powerful data analytics. In 2014, ARC settled $89.6 billion worth of carrier ticket transactions for more than 9,400 travel agencies with 13,000 points of sale. By providing world-class business services and products, ARC enables participating agencies and 200 carriers to focus on what's important–increasing their revenue. Established in 1984, ARC is headquartered in Arlington, Virginia. For more information, please visit www.arccorp.com.