Scheme Using University/College Identities
Several agents have again confirmed that compromised credit cards are being used for tickets that appear to be from their corporate account, especially their university or college accounts. These non face-to-face transactions are issued for immediate international departure, typically to and from West African or South American airports but could depart from any non-U.S. gateway.
Here is an example: An email is sent to various travel agents, which will appear to be from a university or college account, trying to convince you that the sender of the email is an official from the university/college.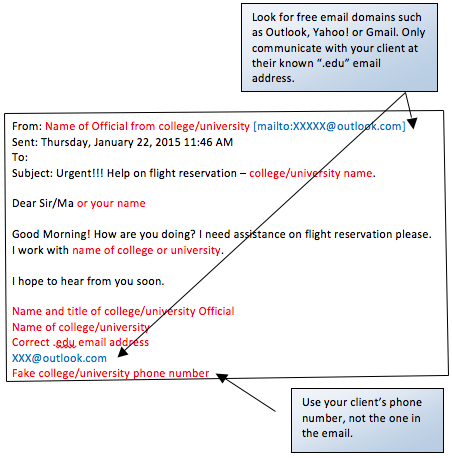 What Should You Do Next?
Advise your peers of the scheme and provide them with a copy of this alert. Don't assume that every corporate booking is legitimate. Review your corporate bookings daily for:
Multiple passengers with immediate (same- or next-day) departures
Changes in a corporate client's usual travel patterns (e.g., same- or next-day departures, international departures, etc.)
Use of unknown or multiple credit cards
Unusual origins or destinations
High-dollar tickets
High-risk itineraries (e.g., to/from LOS, ABJ, JNB, ACC, CMN)
If you identify some of these changes in patterns or suspect compromised credit cards, you should:
Take immediate action to confirm passenger names and credit cards with your corporate account.
Act quickly to properly void unconfirmed corporate tickets through your GDS to obtain the ESAC code from the carrier's e-ticket database.
Cancel (do NOT refund) return segments of the ticket that may have been used outbound to reduce losses.
If a corporate booking tool was used, determine how access to the corporate booking tool may have occurred.
Review online booking tool rules and settings with each corporate account to identify and minimize vulnerabilities.
Contact ARC's Fraud Prevention team for important follow-up information at 703-816-8137 or fifp@arccorp.com.
More on current schemes, fraud prevention and credit card transaction red flags can be found on ARC's Fraud Prevention page.
About ARC:
ARC powers the U.S.-based travel industry with premier business solutions, travel agency accreditation services, process and financial management tools, and powerful data analytics. In 2014, ARC settled $89.6 billion worth of carrier ticket transactions for more than 9,400 travel agencies with 13,000 points of sale. By providing world-class business services and products, ARC enables participating agencies and 200 carriers to focus on what's important–increasing their revenue. Established in 1984, ARC is headquartered in Arlington, Virginia. For more information, please visit www.arccorp.com.