The Latest Phishing Emails Have Arrived in Your Inbox
ARC has confirmed two types of phishing emails that were sent to agents on July 8, 9 and 16. The fraudster resent previously used phishing email formats you may recognize. One masquerades as Delta and TripCase, and the other one impersonates Delta. Don't be caught off guard by these fraudulent emails. Review the examples below to see signs that the emails are not real.
Show these two examples to everyone who has access to your agency's GDS and have them look in their email to see if they have received one or both of them. If they clicked the links and logged into a GDS (or can't remember if they did), immediately have them change their password.
First example: Delta and TripCase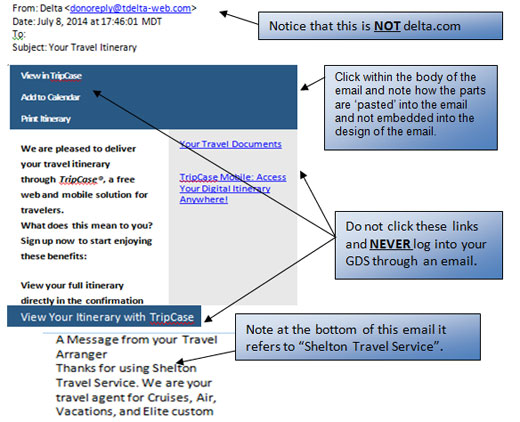 Second example: Delta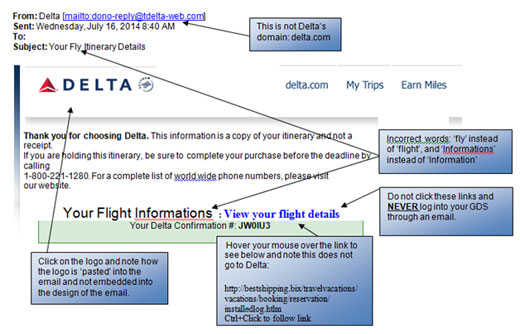 More information on current schemes, fraud prevention and credit card transaction red flags can be found on ARC's Fraud Prevention page.
About ARC:
ARC powers the U.S.-based travel industry with premier business solutions, travel agency accreditation services, process and financial management tools, and powerful data analytics. In 2013, ARC settled $86 billion worth of carrier ticket transactions for more than 9,400 travel agencies with 13,000 points of sale. By providing world-class business services and products, ARC enables participating agencies and 200 carriers to focus on what's important—increasing their revenue. Established in 1984, ARC is headquartered in Arlington, Virginia. For more information, please visit www.arccorp.com.